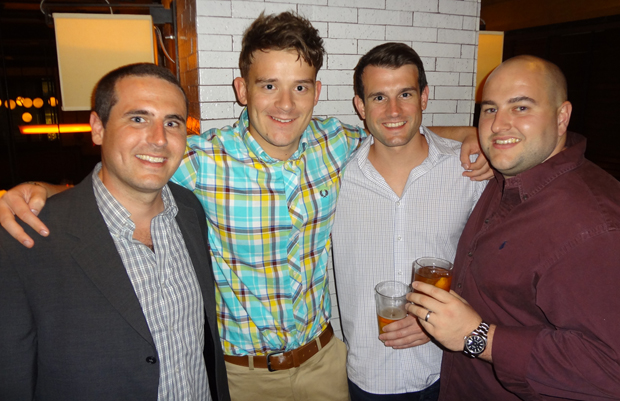 Photo via DnJournal: My own teammates at DomainNameSales (left to right):
Vice President of Sales Jeff Gabriel (left), broker Andrew Mathias,
broker Wade Smith and Sales Manager Dan Adamson
Behind due to Wetbfest, Ron Jackson will be ringing the official industry sales bell in a double column on 2/15.
Look for these and other yet-to-be-reported sales from DNS and note the final pricing as confirmed by Ron.
Returning to the Caymans with a new slew of motivated brokers in tow, February and subsequent months could get very heated which says there's never been a better tome to get your names into the Internet Traffic program.
DNS February Results (first seven days)
Conversationtopics.Com
CountryCLubGolf.com $5-10K
Irondeficiencyanemia Com $5-10K
Manchesterairporthotel.Com $5-10K
Onlineinvoice.Net (Schaffer)
PillPack.com $5-10K
Pragueaccommodation.Com $5-10K
ProjectLife.com $50-100k
Tubeguards.Com $3-5K
Unrelated but related: Congratulations to Buy Domains on the $200K duo sale of Pastor.com and Pulpit.com. Plus two great ones fro World Wide Media: MeetSomebody.com and LoveTheDress.com